Healthier Homemade Tim Tams! I don't think these need much of an introduction…but I think the image below explains all you need to know!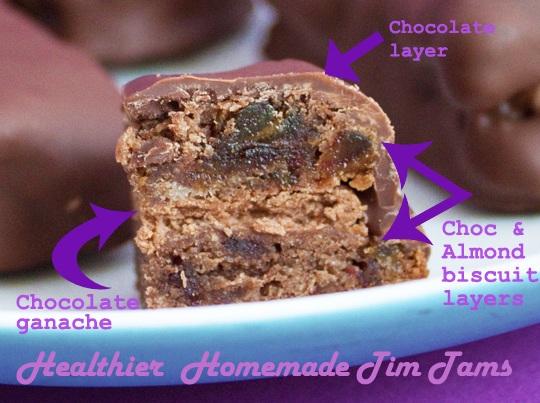 Shall we move onto the recipe?
So there are three parts to these delicious, decadent biscuits:
the chocolate, almond and date biscuits layer: which are gluten-free (and can they be made dairy-free by using coconut oil instead of butter). each 'tim tam' has two of these biscuits which sandwich the chocolate ganache.
the chocolate ganache: which goes in between the biscuits. this can be made dairy-free by using coconut cream instead of dairy-cream).
the chocolate layer: which covers the the biscuits!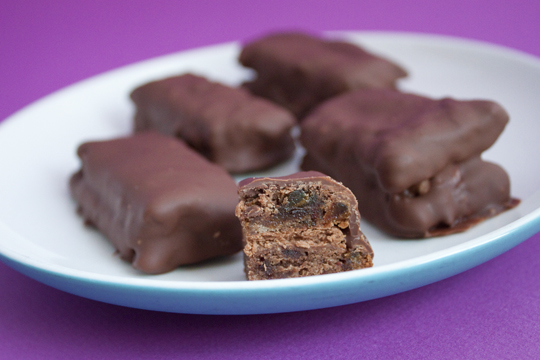 Sound good? Here's how to make them:
Healthier Homemade Tim Tams (Made with Real Food Ingredients)
Allergy info/recipe info: Even though this recipe is healthier, it has a bit of sugar in it from the chocolate, so those who are on a low-carb or weight loss diet may not find this recipe suitable for their goals. This recipe is trans-fat free (unlike the original recipe!) and gluten-free.
Update: Here is a website that lists the ingredients of the original Tim Tams. How many of these ingredients would you are say are real food ingredients?
For both chocolates I used in this recipe, I used the Green and Blacks brand (which is organic & fair trade)- but for a slightly healthier version you may like to try the Cocolo brand of chocolate which uses evaporated cane sugar, is fair trade and organic). (Disclaimer: I am not affiliated with either of these brands).
Please note: this recipe is inspired by the Tim Tam biscuit and I am not claiming they are exactly like the original Tim Tams.
Makes: ~ 8 made biscuits (16 halves)
1. Chocolate, almond and date biscuits:
Ingredients:
100g almonds, ground (you could also use the equivalent of coconut flour or a sprouted grain or sprouted almond flour)
2 tbsp. cocoa powder
75g dates, pitted & chopped into tiny pieces
1 tbsp. butter/ghee (or coconut oil), chilled
1 egg (or 1 tbsp. chia seeds that have been soaked in 2 tbsp. water. note: this variation will be give the biscuits a bit of a crunchy, chewier texture)
2 tbsp. maple syrup
butter or coconut oil to grease the tray
Tools you will need: A square or rectangle tray (I used the back of a square tin), spoons and a knife.
How to:
Pre-heat the oven to 160 degrees C (320 F) (my oven was fan-forced). Grease your tray with butter or coconut oil.
In a bowl, combine the almonds and cocoa powder. Stir in the the date pieces and add the chilled butter. Using your hands, mix in the butter evening until the mixture resembles crumbs.
Beat the egg and add it to the mixture almond. Stir in the maple syrup.
Spread the mixture onto the tray. When I spread the mixture onto the tray, it had roughly ~1/2 mm thickness. Score the biscuits into an even number of rectangle shapes: the biscuits themselves were around 1.5 inches wide by 2.5 inches length (in a rectangle shape), which made around 16 biscuits (to make 8 whole tim tams- 2 halves for each biscuit) (I had to make them in two batches as they didn't all fit on the tray). But make as many or as few as you would like.
Bake them in the oven for around 10 minutes or until lightly brown and they look dry and cooked. Remove them off the tray when they are still warm and leave to cool.
2. Chocolate ganache layer: (please note this seemed to make a bit too much ganache, so you may like to 1/2 this amount).
Ingredients:
150ml full fat cream (or coconut cream or coconut butter)
50g dark chocolate
50g milk chocolate
How to:
In a pot heat the cream (or coconut cream or coconut butter) and chocolate on low heat and whisk it until the chocolate is fully dissolved into the cream. Leave to cool then put the ganache in the fridge to chill.
When the ganache is chilled and slightly thickened, take out a whisk or electric mixture and whisk the mixture until it is thick and mousse-like.
In half of the biscuits spread about 1 tsp of the ganache evenly on each biscuit and then put the other biscuit on top.
Put the biscuits in a plate, cover (with an upside down bowl etc.) and leave in the fridge to chill.
3. Chocolate layer:
Ingredients:
 190 dark or milk chocolate, chopped
How to:
Place the chocolate in a saucepan, put on low heat and stir to melt the chocolate.
Now take out the biscuits from the fridge. Dip them in the chocolate to completely cover all sides of the biscuits. Put them back on the plate. Cover all the biscuits with the chocolate. Then place the biscuits on the fridge to set.
Enjoy!
If you have any trouble with this recipe, please let me know!