Here is a another bean-y recipe which I hope you'll enjoy! This recipe has options in the recipe to adapt it for those who follow a vegan and vegetarian diet (see the  'v' next to the ingredients). It is also gluten-free. This is my delicious version of baked beans.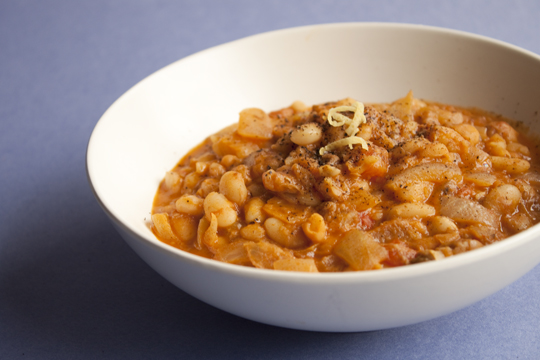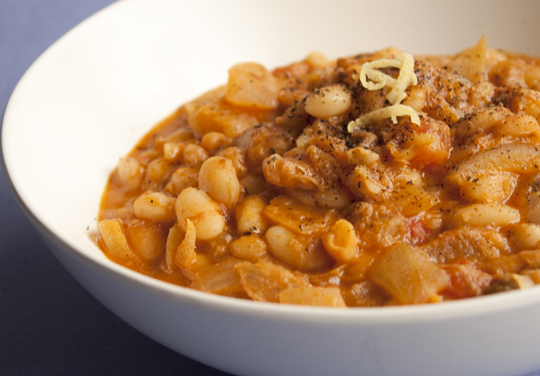 Recipe: Creamy Broth-Cooked 'Baked' Beans
Makes: 2-3 serves
 Ingredients:
~1.5 C. dry navy/haricot beans (Note: the volume was taken when the beans were dry)
2 tsp. coconut oil (v) or ghee or butter
1 brown onion, peeled and chopped
2 cloves of garlic, peeled and chopped
spices: 2 tsp. sweet paprika powder, 1 tsp. coriander powder & 1/2 tsp. cinnamon powder
1 large tomato, chop into very small pieces
~1.5 C vegetable broth (v) or bone broth
1 tbsp. lemon juice + 1 tsp. lemon zest
(optional) 1 tbsp. cashew cream/macadamia cream (v) or dairy-milk cream
salt and pepper, to taste
How to:
Cooking the beans: If possible, soak the beans in water overnight. Discard the soaking water. When you're ready to cook the beans, in a pot add the beans and enough water to cover them, then simmer  on low for about 1 – 1.5 hours or until they are very soft (check the water so it doesn't get too long & top up if necessary) . I found that some of the skins came off the beans, I just picked them out (you don't have to). Don't add salt to the water at this stage as it will harden the beans. When cooked, drain the water away and rinse the beans in a colander.
Empty the pot. Put the pot back on the stove. Heat and cook the onion and garlic until the onion is translucent. Add the tomato and spices and cook until the tomato is soft.
Add back the back the beans along with the broth. Cook on low until the broth evaporates somewhat and a sauce forms. Stir in the lemon juice and zest and the cream.
Season with salt and pepper.
Enjoy!