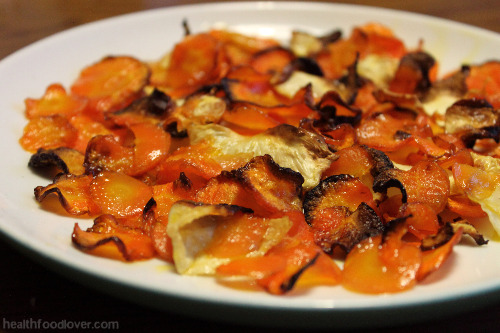 Baked Carrot and Celeraic Chips
You may have noticed by now that I'm a big fan of baking veggies like potato chips. Why is that so you ask?
Well here are some answers:
Because they taste amazingly good!
They can be more nutritious than potato chips (no vegetable oils).
So easy and cheap to make (depending on veggie).
Simple to prepare.
Gives you another way to eat your veggies.
Kids will love them.
Who doesn't love crunchy baked veggies?
These chips become sweeter when baked.
For those who haven't had Celeriac, it is a root vegetable (I've been told it is the root of celery). It had a milder flavour and a firmer texture than celery and it tastes great as a veggie chip! Carrot tastes equally nice roasted as a chip too, it becomes sweeter and is really delicious. If you can go  for organic carrots (then you won't have to remove the peel).
Here are some of my other veggie chip recipes:
Carrot and Celeraic Chips
Time: 20-30 minutes
Serves: 2-3
Ingredients:
2 carrots
½ celeriac
olive oil or coconut oil
Salt and pepper
Method:
Cut your carrots and celeriac up into chip-sized pieces (I used a mandolin).
Add them to a oven-proof bowl and pour the oil over to coat. Add the salt and pepper.
Bake in the oven at 180 degrees C, till they are crunchy (around 20 minutes- or a shorter time for a softer chip).
Cooks Notes:
When you bake them-it's best to spread them out as much as possible so they don't stick to other chips.
Also, You may want to turn them over during cooking so they can crisp up evenly.
Try adding some to a salad- they would make a great crunchy addition (think a 'vegetarian' alternative to bacon).
Eat warm or devour later cold.
Enjoy,
Michelle.
Print, Email to a Friend or Save as a Pdf.